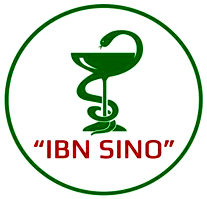 Private trade and production enterprise "Ibn-Sino" was created (established) in 1994, in the Republic of Uzbekistan Kashkadarya region Mirishkar district.
The company is created from leading pharmacists and doctors.
The main activities of our company pharmaceuticals, that is, several retail pharmacies. The company also deals with planting and growing medicinal plants, drying and preparing simple, medicinal products.
Considered a small family company.
The number of personnel - 10 people.

In 2017, we started a new project - production of disposable medical syringe and disposable medical infusion sets. Since april 2017, construction and installation works began: to date, all works by plane has been completed by 90 %.
Short information about company
Full name: Private trade production enterprises "IBN-SINO"
Short name: PTPE "IBN-SINO"
Established: 1994
Activity: Pharmaceuticals: Retail pharmacies (Drugstore)
TIN : 202 510 427
Bank: JSB "Khalq bank" (People's Bank of Uzbekistan), Mirishkar branch
MFI Bank: 00699
Account number 2020 8000 **** **** 4001
Adress company: Republic of Uzbekistan, Kashkadarya region, Mirishkar district, Dzheynau town