Low wages for workers
Potential reserves of local labor
Tax breaks
For new production companies tax benefits and preferences are attached.
High demand for syringes
As a result of the rapid population growth, there is a steady increase in the demand for medical goods in the domestic and foreign markets.
Raw material base
Due to the large amount of local raw materials, the cost of finished products is low.
For example: On the accounts of 4 gas processing companies, the price of producing PP and PE granules is very low!
Favorable geographical location
Due to the convenient location of the plant, we can export products of Turkmenistan, Afghanistan, Tajikistan and southern Asian countries.
Investment offers
1. Project title: Production of disposable medical syringes
2. Directions: Pharmaceutical (medical) industry.
3. Power per day: 500,000 pcs. syringes. (US $ 14,000)
3a. Annual output: 150.0 million pcs. syringes. (3,5 million US dollars)
4. The total cost of the project: 2,0 million US dollars
5. The share of the initiator: 0,6 million US dollars
6. Requested amount: US $ 1,6 million
6a. For the purchase of equipment: 754,0 thousand US dollars.
6b. For the purchase of raw materials: 646,0 thousand US dollars.
6c. For construction: 200.0 thousand US dollars.
7. The proportion of net arrived: 70-80%
8. Income of the investor from the net arrived: 420 thousand US dollars (per year)
9. Duration of contract: 5-7 years
Availability of documentation:
1. The contract and the invoice - "Shanghai IVEN Pharmatech & Engineering" Co. LTD
2. Design and estimate documentation - by "Marzhona Universal Fayz" LLC
3. Technical and economic justification of the project: by "Alfa Garant" LLC
4. Construction: - beginning from April 2017. As planned, 90% of the work is planned.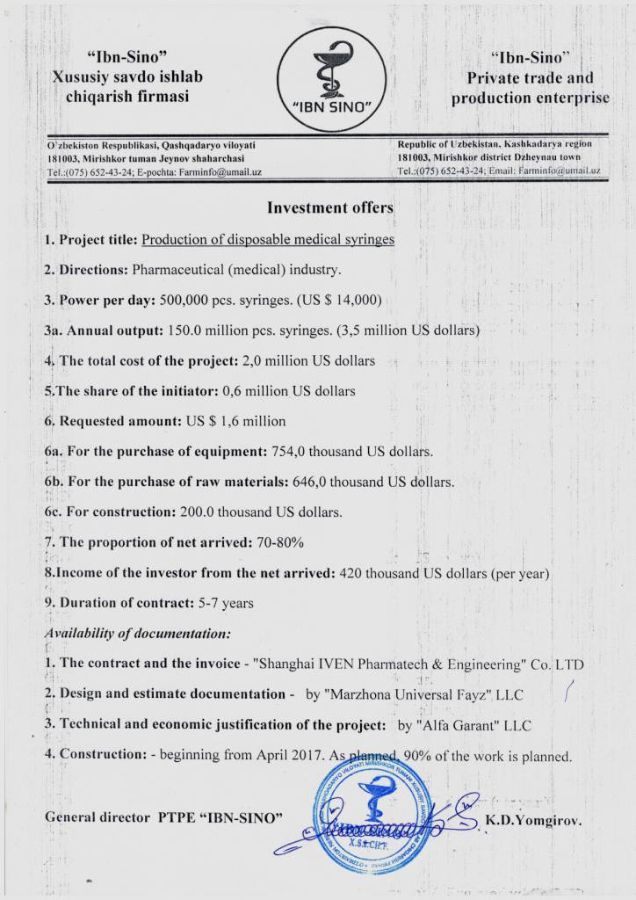 Distribution of profit between founders